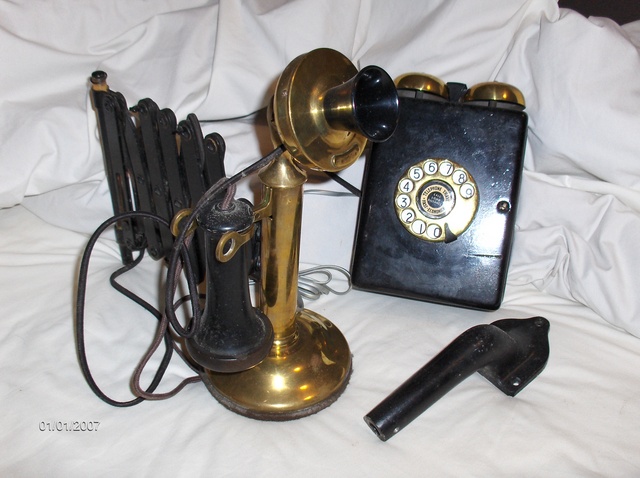 This is a 51AL Western Electric Candlestick with a 229 Transmitter and a WE scissor gate. The telephone comes with a 334A subset and a reverse NE dial(likely made in Europe)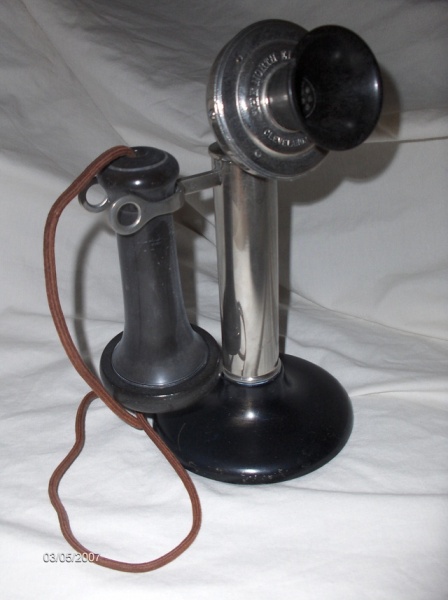 North Electric "Thick Shaft" candlestick with small transmitter faceplate and marked receiver.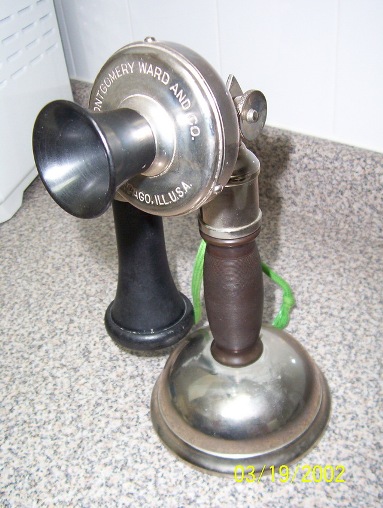 Chicago "Semi Potbelly" stick with Montgomery Ward Telephone Co. transmitter. Fashioned with a "Chicago Satisfy" receiver cap.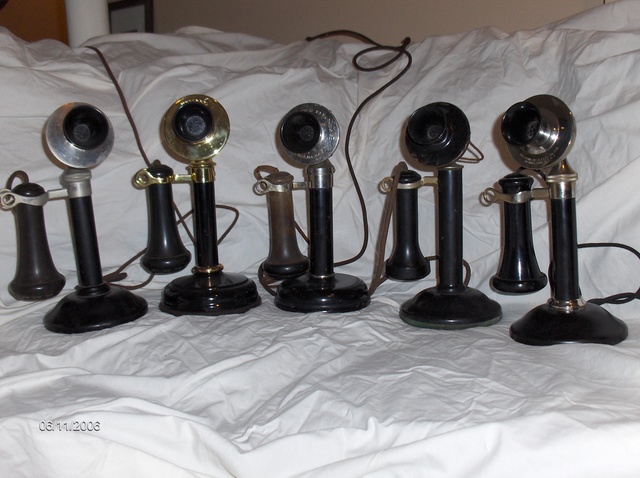 From right to left:The Connecticut Telephone and Electric Co. with marked transmitter. Next, DeVeau Candlestick. Cracraft Leach with marked transmitter. Kellogg Candlestick with marked transmitter. Stromberg Carlson Candlestick.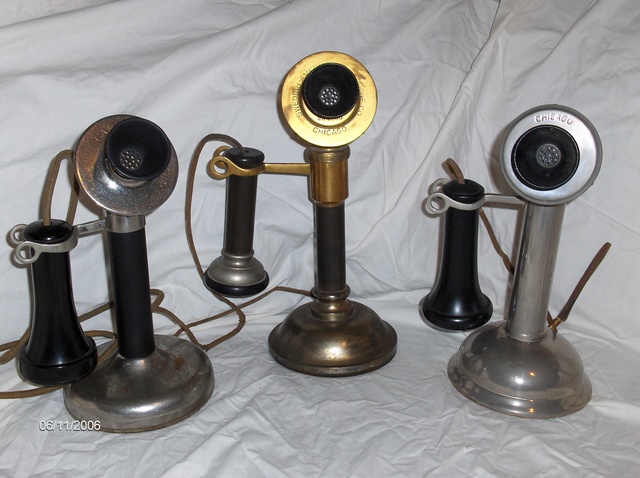 From lft to rigt, a Canadian Independent Telephone Co, Toronto Canada set. In the centre, a Swedish American Telephone company candlestick. On the right, a nickle Plated(original)Chicago stick with a "Chicago Telephone Satisfy" receiver cap.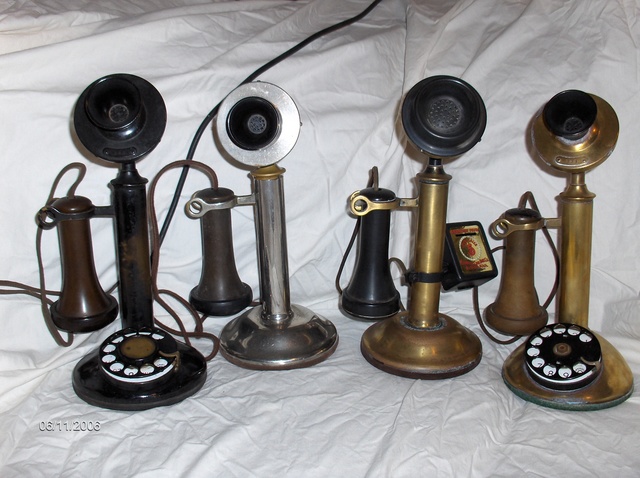 From left to right, a 51Al Northern Electric dial set with a 323 trnsmitter, marked receiver, a 2AB WE dial and was mostlikely made for the US market. Next, 20PC Northern Electric set with marked receiver. Next, is a Northern Electric 20 AL with bulldog transmitter and a REPRO courtesy coinbox. On the right is a 20AL Northern Electric "high clam shell" base set with a 5h NE dial and 323 transmitter. All sets have Northern Electric Company of Canada embossed on the back cup.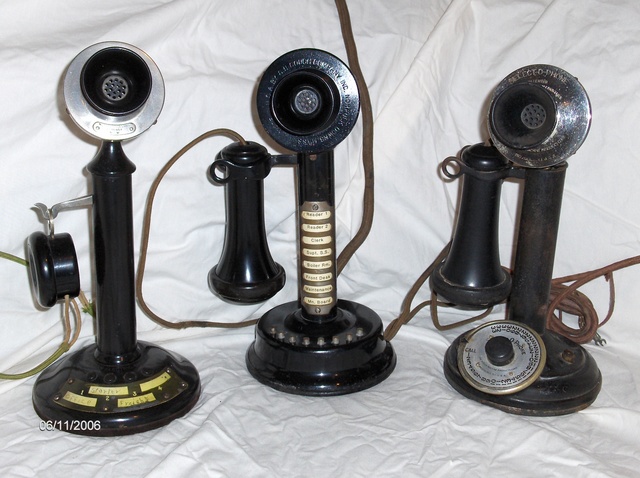 A small collection of Enterphones. From left to right is a Western Electric 4 button enterphone with a watchcase receiver and 302 transmitter. In the center is an SH Couch Co,Norfolk,Mass. 8 button enterphone. On the tight is a 33 channel enterphone made by Screw Machine Products Co. The face plate marked as Select-o-Phone.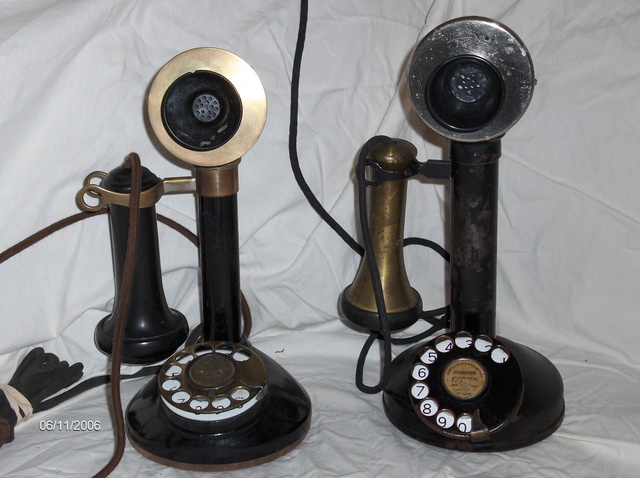 From left to right, a Stromberg Carlson dial set with marked receiver and WE dial. On the right is a British WE/Post Office dial det with a dial made for Turkish market.
On the left is a DeVeau stick with a marked transmitter and on the right, an American Electric Candlestick with Die Cut receiver hook and Rev-O-Noc Transmitter faceplate.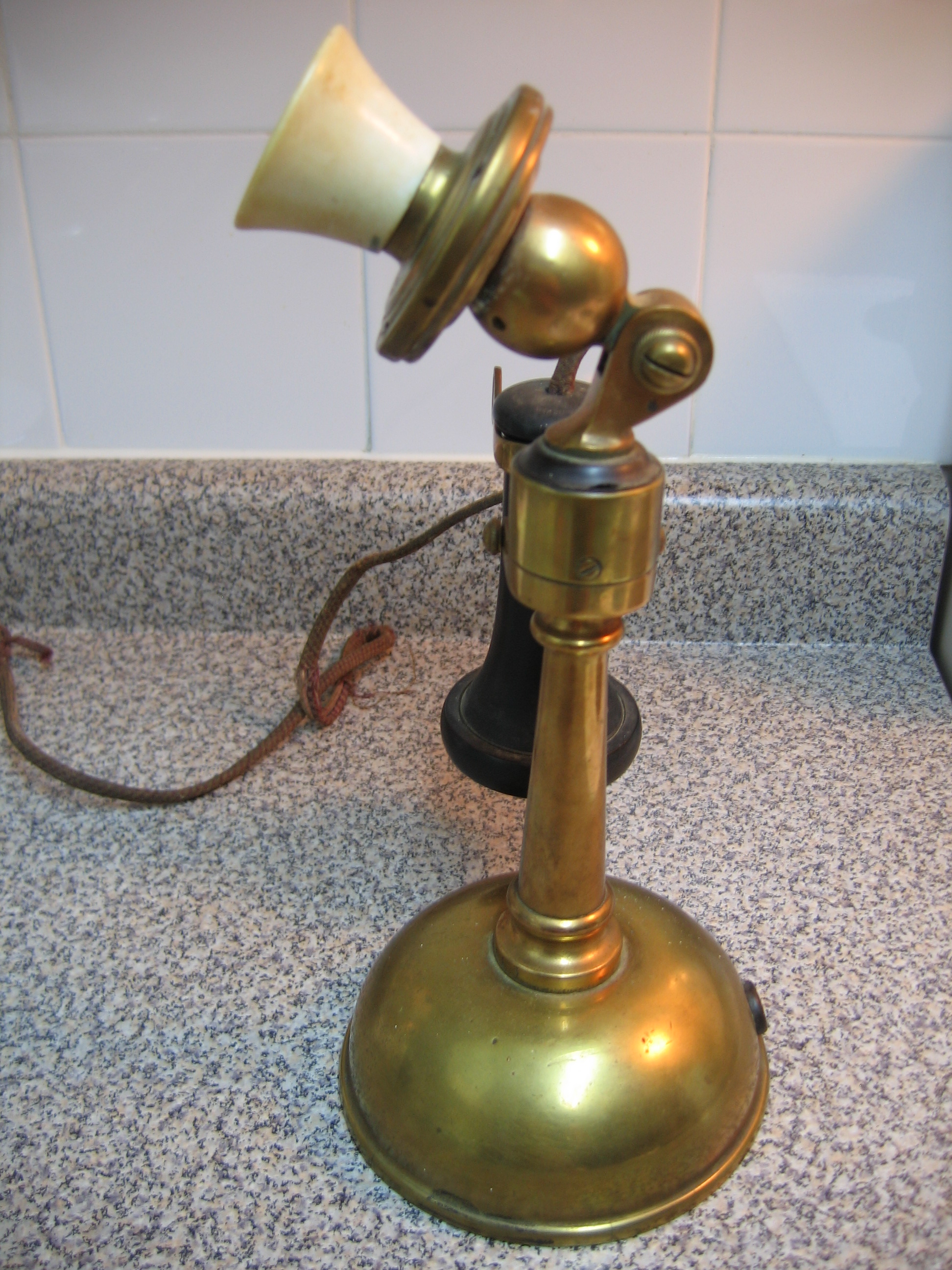 Stromberg Carlson "OilCan" telephone with ball type perch,1895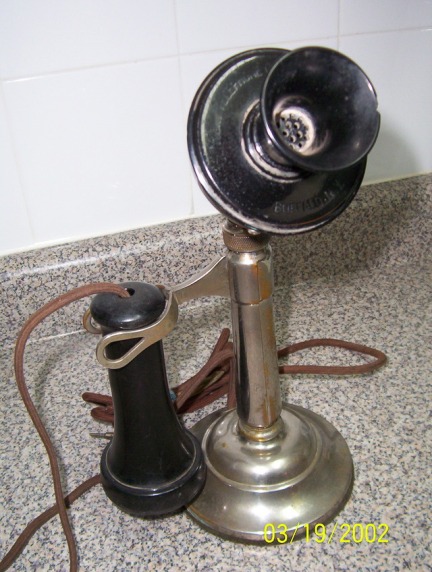 Century Split Shaft, Buffalo, NY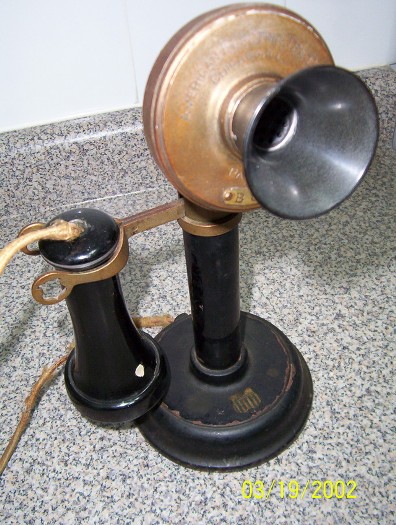 American Electric Keystone Candlestick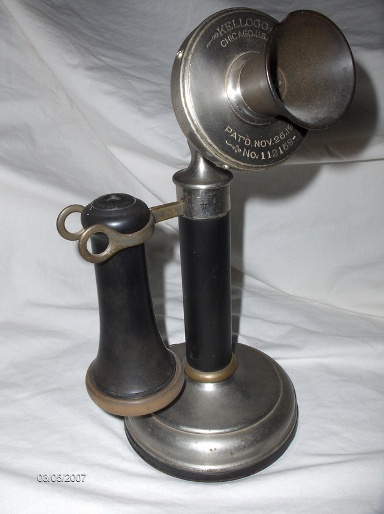 Kellogg Knurled Candlestick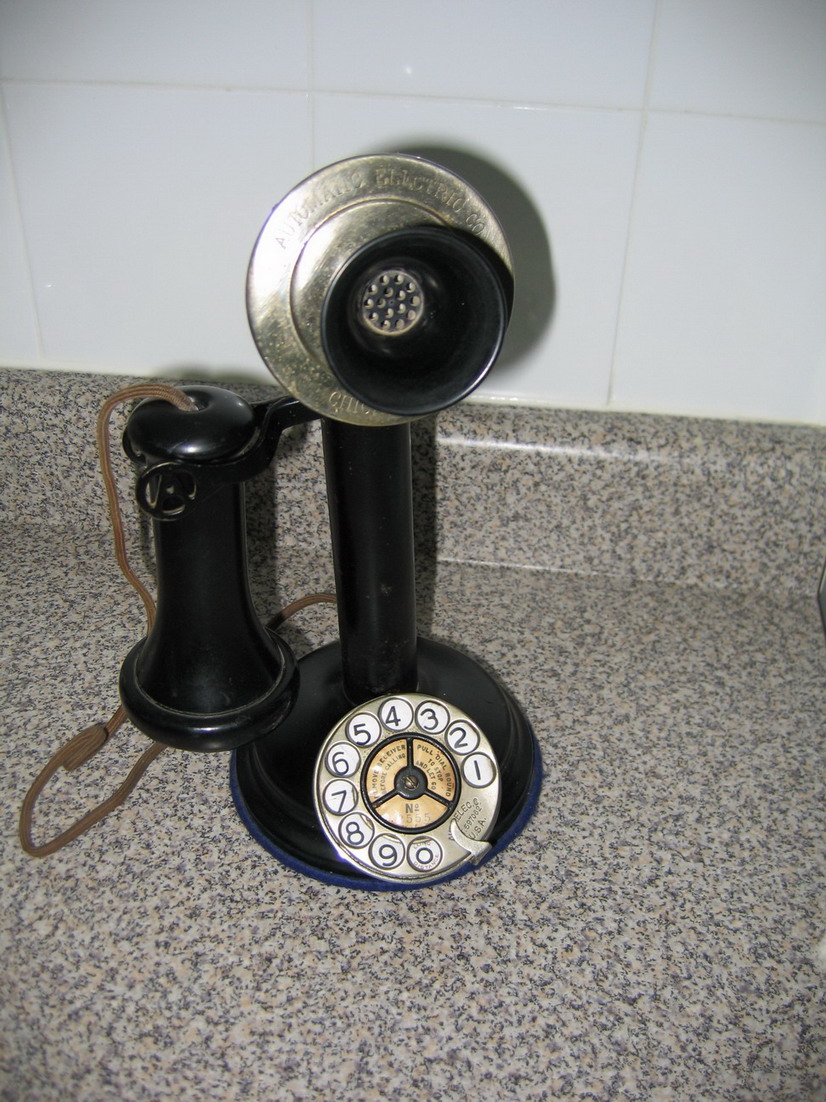 Automatic Electric Stairstep Candlestick with A in hook switch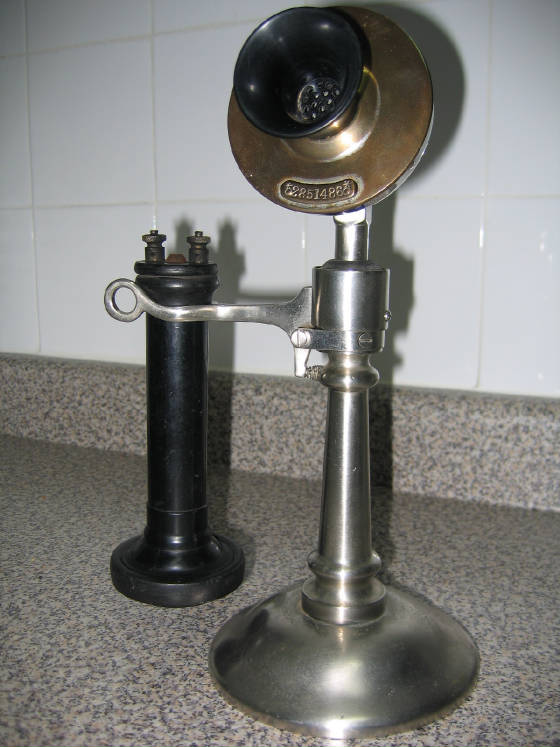 Western Electric number 10 with the 7 digit transmitter and long pole receiver.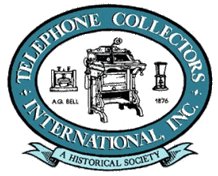 PROUD MEMBER OF TELEPHONE COLLECTOR'S INTERNATIONAL